2016 AXA Community Achievement Award.
The Stephanie Joseph Memorial Fund Scholarship, 2016

Cosmopolitan Club of Aurora, The Club That Fights Diabetes Scholarship, 2016

Emily was awarded the Ted Brattin Civic Youth Award by Abigail Chiesa and Col. Richard Todas on Monday, December 9, 2013 at the annual Pearl Harbor Day Luncheon. This annual award recognizes Fox Valley Youth, thirteen to nineteen years of age, who have exhibited qualities of CITIZENSHIP, SERVICE and LEADERSHIP as demonstrated through activities in school, church, or community. The sponsors for this annual award are Aurora Navy League, Aurora University, and the Rotary Club of Aurora.

Emily was awarded a 2014 Prudential Spirit of Community Awards engraved bronze Distinguished Finalist medallion by Franklin Rivera of Prudential for her outstanding volunteer work. The program was created in 1995 by Prudential in partnership with the National Association of Secondary School Principals (NASSP) to honor middle level and high school students for outstanding service to others at the local, state, and national level. Emily was nominated by the organization Giving DuPage which promotes giving and volunteering.

Emily was awarded a 2013 Presidentís Volunteer Service Award by Connie Bailey of Giving DuPage in recognition and appreciation of her commitment to strengthening our Nation and for making a difference through volunteer service. Emily had over 200 hours of community service/volunteer hours in 2013. This award is sponsored by the Corporation for National and Community Service.

Emily's artwork she drew when she was 12 was used for this years award plaque design at the 2012 JDRF Walk to Cure Diabetes Awards reception. The awards are presented to teams and individuals that have raised a certain amount of money for the walk.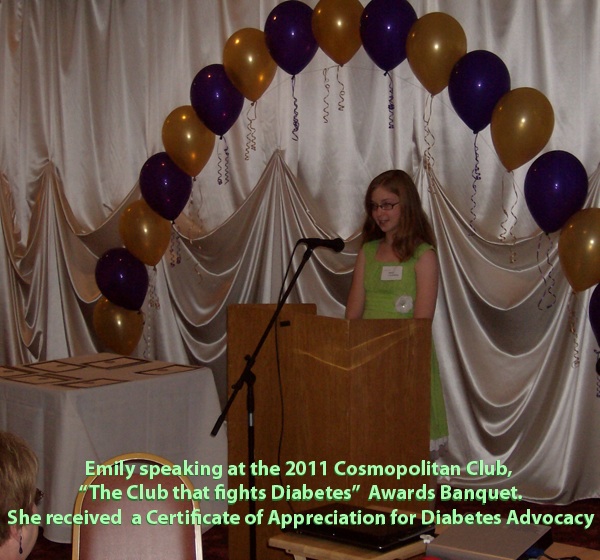 Emily was chosen and participated in the 2011 Aurora Leadership Institute at the Illinois Math & Science Academy. This program was created to foster future leaders to make positive changes in their school and community organizations as ethical citizens and decision makers.

Emily received a Certificate of Appreciation from Illinois Governor Pat Quinn for her outstanding contributions and community service on behalf of the State of Illinois. Emily received this award while she was being interviewed on the radio at Columbia College in May, 2011 for their annual Commitment to the Community event during their year-end celebration called Manifest.

Emily was named one of 75 National Semifinalists in the 2011 Huggable Heroes program, sponsored by Build-A-Bear Workshop. This program recognizes and encourages young leaders making a difference in the lives of others.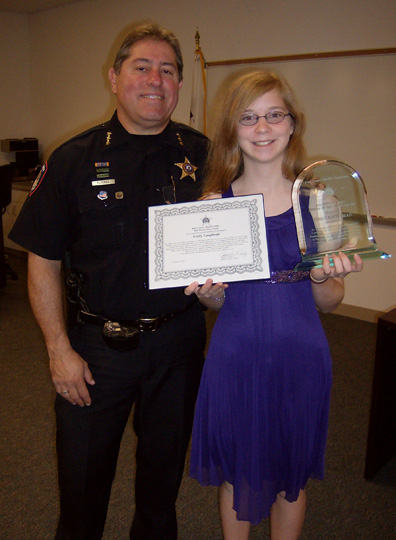 Sheriff Pat Perez of the Kane County Sheriff's Department awarded Emily the 2010 Roscoe Ebey Kane County Citizen of the Year Award. Her plaque reads - for your determined effort and magnanimous contribution to JDRF while educating and raising awareness to the cause. You are an inspiration to young adults and a model for them to follow.-
Emily Laughead was one of 2,000 kids who won Store Level recognition and one of 194 kids who received a $1,000 scholarship toward post-secondary education through the Kohl's Kids Who Care Scholarship Program. There were almost 18,000 nominees nationwide.
North Aurora Lions Club President Mark Gaffino presents 10-year-old Emily Laughead with the North Auroran of The Year Award. Emily received the honor for spreading awareness about Type 1 Diabetes through her web site, parades, community fests and many fundraising events. She was the first person under the age of 21 to be nominated for this prestigious award.
Emily's design was chosen by JDRF Illinois for their 2008 Fundraising Holiday Card.